Oh David White is very fast, or words to that effect! A song belted out by the Kippax as this Manchester City speedster ran down the wing in front of them.
Fast forward over thirty years and David White has revealed all in his book "Shades of Blue: the life of a Manchester City Legend and the story that shook football ".
We caught up with David to find out more about his book and what he's been up to since leaving the Blues.
1) Tell us more about the book and why you decided to write it
The book covers my whole life. I originally started writing it following my father's passing for myself to be honest and never thought we would end up with a published book.
It covers my childhood growing up as a City fan, my obsession to become a City player, my abuse at the hands of my football coach.
The book then obviously covers my football career, the secret I kept throughout and the effects of that on my life and my career. I have tried to be as honest as possible and I hope City fans at least will enjoy the read!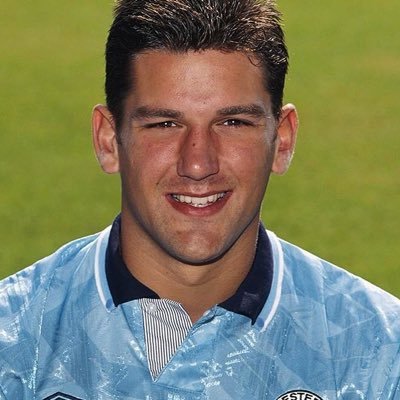 2) The book was co-authored by Joanne Lake, who also co-authored her husband (and City legend) Paul Lake's book "I'm not really here". How did that come about?
I wrote 100,000 words on my own and had no idea what to do next. I met with Jo and Paul and just knew that I could trust their advice and integrity.
I subsequently met with Jo maybe ten times and we re-wrote the book to become something that could be published. She was amazing to work with and I for one think she did a great job.
3) Looking back at your City career what were the high points, low points and what was the reasoning for your move to Leeds in 1993?
All my debuts at the Club were high points. A team, youth team, reserves, first team. England under 21, B, full cap. Then obviously The Maine Road massacre 5-1 v United, 10-1, 2 doubles in one season against Liverpool, 5-1 at Villa (personally that was the highlight).
In 1993 with all the turmoil at the Club surrounding Peter Swales, John Maddock's appointment, Reidy's inevitable sacking, Brian Horton's arrival, Francis Lee plus my poor form and deteriorating ankle, I was totally disillusioned and convinced myself it was better for both parties if I moved on.
I explain all this more in Shades of Blue but in a nutshell that was it.
4) Briefly, without giving too much of the book away, what have you been up to since leaving City?
I obviously had a couple of years at Leeds and then the same at Sheffield United. I had four ankle ops in less than four years and had to retire in 1998 having played my last ever 90 minutes at Wembley in 1997 in a losing play off final.
I then worked within the family waste business for 17 years which was absolutely horrendous and then failed in 2015. We then developed a home based travel agency called Living It Travel which I really enjoy.
5) Did you come from a City supporting family and do you still watch City now? How does the Etihad compare to Maine Road?
I was a massive City fan as a kid. My dad was at the finals in the mid 50's and saw all the triumphs in the late sixties/early seventies.
I had a season ticket in block E right by the home dug out. It was incredible.
I don't go too often now but do the odd radio work and appearance at City Square. The Etihad is incredible and the CFA even more so but you just can not beat Maine Road (before the new Kippax). It was paradise!
Quick fire questions
Best manager you worked with: Howard Kendall
Favourite kit worn: All white circa 1992
Favourite City goal: Hat-trick goal v Villa in the 5-1
Favourite roommate on away games: Bob Brightwell/Gary Speed
The CFA has nothing on Platt Lane. Me and Bob enjoying the privacy offered! An opposing team scout could just watch you do your set pieces!
"David White: The life of a Manchester City Legend and the Story that Shook Football" is available to buy from Amazon here.