With matches played at loads of different times, the 3pm Saturday kick off is a thing of the past. Games kicking off at 5.30pm or at lunchtime, why not explore the city a bit and check out these things to do in Manchester.
1) Buy something unusual at the Manchester Craft and Design Centre
This wonderful Victorian building was formerly a fish and poultry market (doesn't smell anymore!). It is now home to 30 independent artists and makers, producing some wonderful gifts and crafts.
The building is covered, so there's no problem with the Manchester rain and the Oak Street Cafe inside produces some great food. It can be a little tricky to find as it's hidden in the Northern Quarter but it's well worth it!
Opens 10am – 5:30pm Mon – Sat, 11am to 5pm Sundays (although not all traders work Sundays – slackers!)
For more details head over to the Manchester Craft and Design centre website
2) Try a new beer at Piccadilly Tap – they've got 27 on tap!
Piccadilly Tap is (you've guessed it) on the approach to Piccadilly railway station. Come out of the main entrance and walk towards Piccadilly Gardens and before you cross a road Piccadilly Tap is on your right.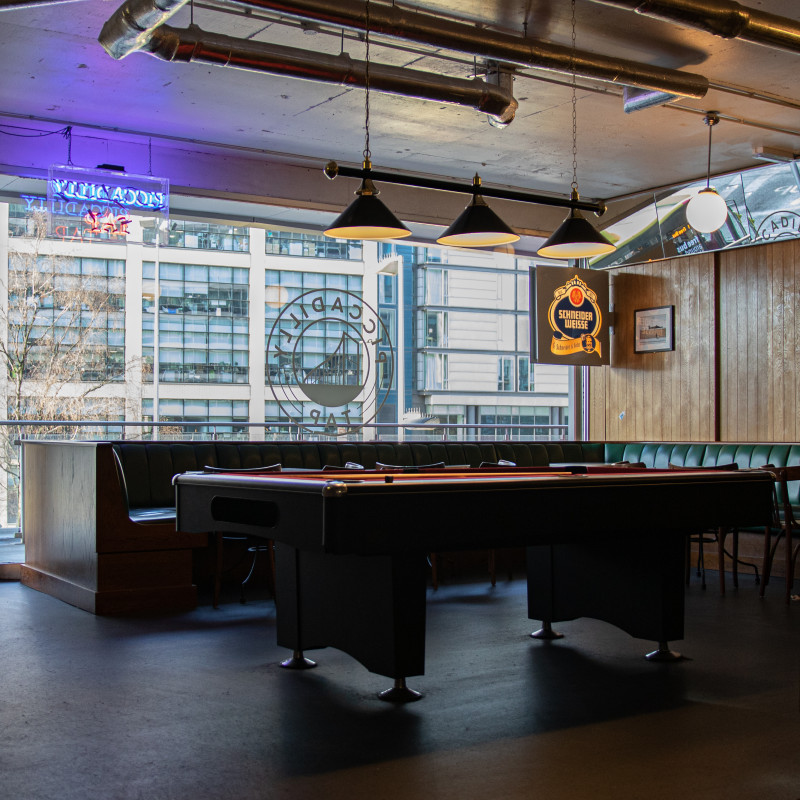 A great alternative to the expensive bars in the station and with 7 different cask beers and 20 different keg beers you'll be spoilt for choice. They also have a bottle fridge with over 65 different beers for the train journey home!
For more details check out the Piccadilly Tap website
3) Visit the National Football Museum
It had to be in Manchester didn't it? The home of football – first team to play in numbers in a Cup final, first team to score and concede 100 goals in a season, last team to win the league with an all English squad, highest attendance outside of Wembley – and that's just the off the top of my head Manchester City facts – I'm sure there's a lot more!
It's free to enter if your a City resident (although there are a number of optional activities that can be purchased, but you can still have a great time without paying). With over 140,000 items to display the football museum is a great place to visit time and time again.
For more info visit the National Football Museum website
4) Experience the uniqueness of Afflecks Palace
Ok if it's close to kick off don't go in here as you could end up getting well and truly lost! Like the Manchester Craft and Design Center, Afflecks is an old building hosting a number of independent traders.
Split across 3 floors (I think) this Victorian building has been converted into a warren of independent stalls, small shops and boutiques (you can also get food). The 73 stalls offer retro clothes, records, alternative attire, even a tattooist! If you want something unique and different from the high street this is the place for you.
Look out for the mosaic artworks on the outside of the building including this one:
Apologies for the obscene items on the right!
Open daily from 10.30am – 6pm Mon – Fri, 10am – 6pm Saturdays, 11am – 5pm – Sundays, Bank Holidays – 11am – 5pm
Check Afflecks out at their website where you can learn more about the shops on offer
5) Get a great cheap eat at The Soup Kitchen
Always busy you can get some great seasonal fresh food for around £5 – I particularly like the Curry goat, rice and peas. For the less adventurous there are great soups (hence the name) and sandwiches, as well as daily specials
Home style cooking at its best, it's served on tin plates and the seating is long wooden canteen tables and benches making it a communal feed. There is also a bar serving some great real ales, so you can just experience the Soup Kitchen with a nice pint or a fresh free trade tea and coffee.
Open from 12 noon the canteen transforms into a club at night so you could pop in after a night game.
For more detail see The Soup Kitchen website
6) Sit in a beer garden at Bar Fringe
Situated on Swann Street, this offers a great stop if walking from Victoria to the Etihad. A long small bar, often very busy, Bar Fringe offers a selection of different beers specialising in continental, often Belgian beers.
The best part of the bar is the sun trap beer garden to the rear, offering a quiet oasis in the heart of Manchester.
An alternative beer garden can be found at the Marble Arch (but that's a bit of a trek unless you get a taxi).
Bar Fringe doesn't have a website, but here's their Twitter page.